Infosys and Cohesity: Redefining Hybrid Cloud Experience with Leading Data Security & Management
Infosys Cloud Radar 2021 Research revealed that the highest-performing businesses had annual profit growth that correlated with using the cloud to improve enterprise capabilities in fostering collaboration, unlocking value from data, and developing innovative solutions streams.
As organizations embrace hybrid and multi-cloud operating models, they face challenges in managing data and adopting modern data security and management solutions native to the cloud with the added advantages of putting security first and driving greater insights.
Infosys Teams with Cohesity on Modern Data Protection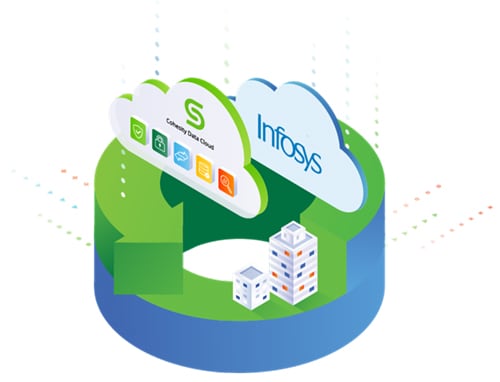 To help customers address these challenges, Infosys created a comprehensive hybrid cloud solution that encompasses consulting, design, implementation, and managed services underpinned by an innovative strategic partnership with Cohesity, a provider of proven data security and management solutions. Infosys now delivers Cohesity-enabled "Data Resiliency as a Service" for backup and recovery, disaster recovery (DR) and analytics, as well as data protection as part of Infosys Cobalt solutions. The new offering empowers organizations to harness the full potential of their data across environments and improve business continuity.
Modern Cohesity data security and management combined with Infosys consulting and managed services can help accelerate innovation, increase productivity, drive growth, reduce costs, mitigate risks, and optimize asset utilization—all of which drive business agility for customers.
Data Resiliency as a Service Delivered for a Leading Software Company.
When a U.S.-based global leader in cloud customer experience and contact center solutions was looking for a cost-effective data protection solution to improve performance and deliver its vision for world-class customer experiences, it turned to Infosys and Cohesity. The Cohesity-enabled data protection solution from Infosys, deployed in a hybrid cloud model, helped the customer realize its vision and boost operational excellence.
Some of the key challenges faced by the customer were: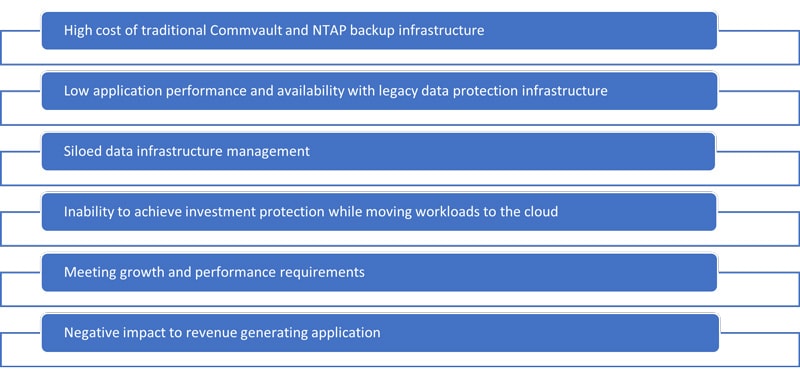 Infosys delivered a well-defined, consumption-based, easy-to-scale Cohesity-enabled solution that offered: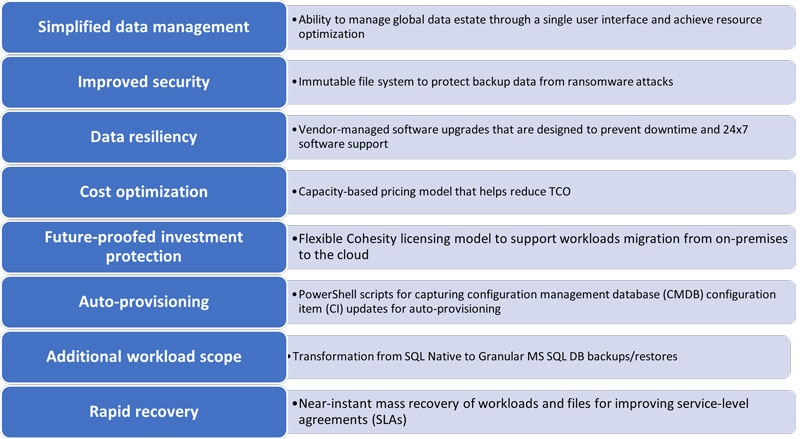 The Infosys–Cohesity solution helped the customer accelerate its cloud transformation journey and achieve key benefits like significant reduction in TCO, improvement in MTTR (mean time to resolution), and meaningful reduction in hardware and carbon footprint.
Cohesity is a key part of the Infosys Innovation Network (IIN) program that aims to create lighthouse wins for clients to experiment with and implement art-of-the-possible. Infosys de-risks client adoption of technology products & solutions by carefully curating these startups, finding the right fit and implementing early pilots.
"Click here" to know more about the Infosys Innovation Network and visit Infosys-Cohesity Partnership page to get insight into our partnership
Authors:
Prasad Joshi,
Senior Vice President, Infosys Center for Emerging Technology Solutions(iCETS)

Murali Nagaraj,
Principal Consultant, Infosys, Cloud Infrastructure Services (CIS)

Amith Nair,
Senior Vice President & GM of Cloud Business Unit at Cohesity
Reference: