Ushering in the Future with Innovation from Infosys
Onward to the future
As businesses lurch from one disruption to the next, they must put in place measures to weather change more effortlessly and make themselves future-ready. By surviving numerous disruptions, we know that these measures must be business-centric, innovative, and heavily harness technology. However, most organizations will vouch that these are not simple measures to adopt and implement.
Infosys as an organization is committed to creating value through innovation by adopting a multi-dimensional approach that covers all relevant stakeholders, including clients, employees, partners, the government, investors and the broader community. This thorough consideration of all stakeholders guarantees a market- and business-relevant approach to innovation.
iCETS – a conduit to the future
The Infosys Center for Emerging Technology Solutions (iCETS) was conceptualized to guide organizations through their struggles with preparing for the future.
The power of iCETS rests on four key pillars. Together, these pillars link multiple technologies and processes with the intent to address business problems and conduct research leading to experimentation and innovation, and collaboration with partners, culminating in at-scale solutions.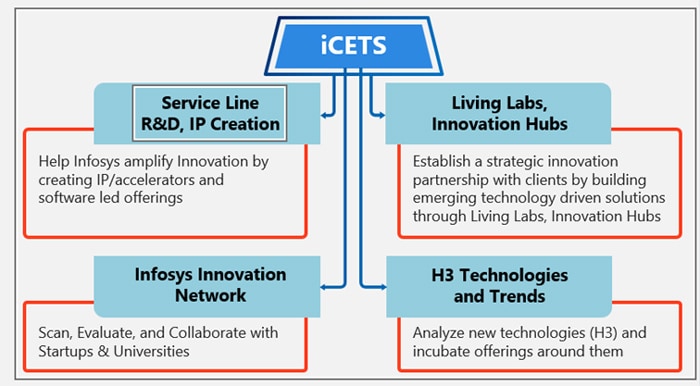 The first pillar involves actively observing and analyzing new technologies and trends in the digital world to spot disruptions before they occur. These learnings go directly into developing capabilities to provide value to our clients at the right time, place, and price. We approach our clients with a thorough grasp of their industry trends, business context, disruptive factors and innovation objectives. As a result, we are well-equipped to define a client's problem.
Infosys Living Labs performs the next set of actions to nurture joint innovation with clients. Living Labs taps into our vast innovation ecosystem to help meet clients' innovation-at-scale needs on numerous dimensions in a structured and formal manner.
With an eye on the future and to cater to scale and speed requirements, we concentrate on building IPs or accelerators to propel the innovation journey forward.
Finally, we include valuable and exciting contributions from startups through the vibrant Infosys Innovation Network (IIN). Clients get to savor cutting-edge solutions from new age startups who are able to tackle traditional problems with a refreshingly different approach.
The current areas under the ambit of iCETS include cognitive solutions, ambient intelligence, adaptive systems, urban tech, automation, exponential manufacturing, blockchain, data for digital, digital engagement and human augmentation. iCETS has developed platforms, solutions and services around these areas that align with a company's future strategies. For example, Infosys Cortex, an AI-driven cloud-first customer engagement platform, transforms digital customer service through purposeful communication and smart decision-making capabilities. In addition, Infosys Conversational AI Suite is a technology-agnostic platform that develops prototypes using a low-code/no-code approach to manage conversational AI solutions like chatbots or virtual assistants.
With its ability to swiftly experiment on promising technologies and innovate, iCETS is well-positioned to be the emerging technology solution incubation partner for our clients, enabling them to get future ready.
The Infosys – AWS relationship, a partnership that keeps on growing
AWS is a significant hyperscaler partner for Infosys. At the fundamental level, AWS gives Infosys early access to emerging technologies, innovation initiatives evolving from AWS Living Labs, and interesting startups they have funded. Thanks to our proven ability to scale and deliver, we can capitalize on this potent combination to truly make an impact with clients. Through this blend of an innovation culture from different entities, we have created five new offerings, participated in ten Living Labs engagements and three early adoption programs in the areas of data, AI, IoT, contact center tech, quantum computing and Metaverse, facilitated incubation and development of three vertical solutions and worked with ten startups backed by AWS.
A few examples of the outcomes are the Infosys Tennis Platform which uses Amazon Kinesis technology, the Infosys Customer Intelligence Platform (CIP) developed using Amazon Neptune and AWS, a joint strategy for quantum computing applications using Amazon Bracket, and the extension of Amazon retail's Just Walk Out concept to other retailers.
In essence, iCETS acts as the contextualizer, crucible and orchestrator for clients to boost their next-generation innovations.
Path to the future and beyond
Companies get the best of all worlds to accelerate their digital journey with the Infosys approach to innovation that combines creating listening posts to spot technological trends early, harnessing the AWS partnership to work on emerging technologies, establishing a startup network to detect innovative solutions, developing joint solutions/IP, building collaboration hubs and providing experts as scale. What's important is that this digital innovation approach is aligned with the prevailing business situation, making our involvement significantly value-adding.
Author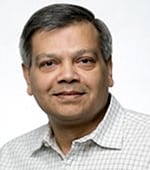 Prasad Joshi, A technology savvy executive with more than 20 years in the information technology industry and a proven track record of driving growth, establishing strong client relationships and profitable engagement management. Prasad has created state of the art products and service lines and has demonstrated their commercial success. He offers a wide range of experience in managing innovation program, alliance led growth, large outsourcing relationships, providing solutions consulting, P&L management and international multicultural teams.