Infosys Ranked #2 in HFS Top 10 Ratings of Energy Service Providers, 2019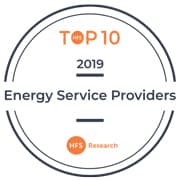 As oil prices stay volatile, and consumers shift towards electric vehicles, Oil and Gas enterprises are pushed to identify new avenues of growth and optimize operation and production costs. In this scenario of transformation, a robust technology partner can be a key differentiator of success.
Download the 'HFS Top 10 Energy Services Providers 2019' Report by HFS Research, a prominent research and analyst firm. The Report identifies technology partners who can enable Oil and Gas enterprises to capitalize on emerging technologies to address changing industry challenges.
Infosys has been ranked #2 in the overall Top Energy Services Providers ratings. We have been recognized for "Demystifying the digitization of the energy sector with a combination of domain expertise, ecosystem approach, emerging technologies, as-a-service offerings, and localized delivery" in the report.
The HFS research team conducted detailed RFIs with 11 service providers. This included reference checks with energy clients, briefings with leaders of energy services practices within service providers, HFS surveyed 350 Global 2000 enterprises, and publicly available information sources. The Report has assessed and scored technology providers across execution, innovation, and voice of the customer.