Infosys won the Pega Partner Award 2018 for excellence in demonstrating creative approaches to driving growth of a certified Pega practice by integrating Pega training directly into its onboarding program.
Infosys has been a strategic consulting partner of Pega.
Pega has worked closely with Infosys over the years and has awarded it a platinum status. The partnership continues to grow and customers reap tangible results from a powerful combination of Pega's industry-leading technology innovation and top-tier industry solution offerings. The relationship spans across segments such as telecom, financial services, insurance, healthcare, manufacturing, and life sciences.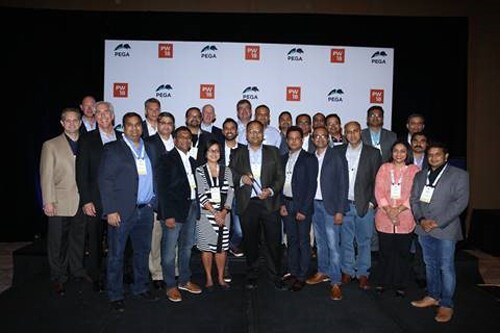 Partnership highlights:
Executive sponsorship from the leadership of Pega and Infosys
Alignment of Infosys catalog-based offerings with Pega's business application offerings
Significant investments in campaigns, plan joint accounts, and other marketing events
Global pool of consultants delivering world-class solutions to clients
Infosys is a strategic consulting partner of Pega and has won numerous accolades from them, including the one above. Some of our joint transformational implementations have been the best in the world, including one which has been rolled out to more than 100 countries to enhance customer experience on cloud in 57 languages. We have gradually redesigned our practice from traditional BPM to Digital Process Automation practice by stitching services across BPM, case management, real time decision making, robotics, artificial intelligence and machine learning. With our new age digital business automation service offerings, we are able to digitize the core to transform experience for our customers.