Infosys is a Horizon 3 Market Leader in the HFS Digital Engineering Service Providers 2023
Infosys is positioned as a Horizon 3 Leader in the HFS Digital Engineering Service Providers 2023 Report. This report assessed and rated the digital engineering service capabilities of 25 service providers across dimensions.
The digital engineering services (DES) market is rapidly changing as more companies, adopt digital technologies in product development and engineering processes. Advanced technologies like AI, ML, IoT, 5G, robotics, cloud, automation, data and analytics, blockchain, and AR/VR are revolutionizing product design and development.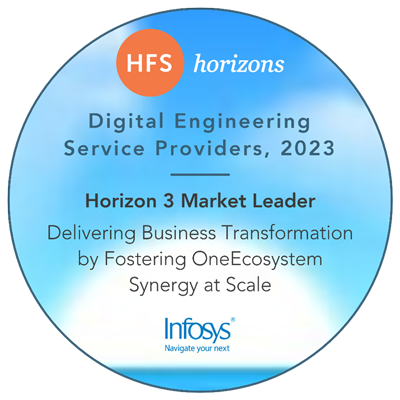 Infosys capabilities highlighted in this report:
Offerings focus: Infosys has a client-focused approach by balancing its service offerings with experience, domain knowledge, and technology depth and breadth. Its digital engineering services are centered around smart, connected, digital, and autonomous systems.
Talent management: Infosys-Lex provides access to training across industries and all digital technologies 24/7 for its employees. It loops in a rewards strategy, career progression plan, opportunity to work across technology, domains, and industries, work flexibility and employee engagement, employee welfare, and an environment that upholds its culture to engage and retain talent.
Differentiation: Infosys has been building its advisory services as a part of the GTM strategy. It has been working on flexible and innovative engagement models with industry players. It has invested in a partner ecosystem and created Infosys Innovation Networks to engage with industry bodies, start-ups, and venture firms.
According to Nandini Tare, Associate Practice Lead at HFS Research and the lead author of 2023, Digital Engineering Service Providers report," Infosys' digital engineering strategy is aligned to make its customers agile, sustainable, and resilient. Leveraging its IIN partner ecosystem of industry bodies, start-ups, Corporate Venture Funds, and VC firms Infosys has built additional capabilities to serve its customers. With a strong partner ecosystem and customer focus, Infosys is driving transformative solutions across industries, emerging as a market leader in the Digital Engineering Service Report, 2023."