Infosys is a Leader in Everest Group's 5G Engineering Services PEAK Matrix® Assessment 2023

Infosys has been positioned a Leader for the second consecutive time in Everest Group's 5G Engineering Services PEAK Matrix® Assessment 2023. Infosys has significantly improved on its position since the last 5G Engineering Services PEAK Matrix® Assessment, based on marquee projects, key thought leadership initiatives as well as dedicated work on use case development.
Everest Group is one of the most trusted Analyst firms in the Engineering Services domain, and has more than 30 years of experience in guiding their clients with engineering services and strategic IT.
The research consisted of assessment of 20 globally recognized engineering service providers and features them on the PEAK Matrix. The PEAK Matrix® evaluation measures the market impact and the 'vision and capability' of the service providers, categorizing them as Aspirants, Major contenders and Leaders.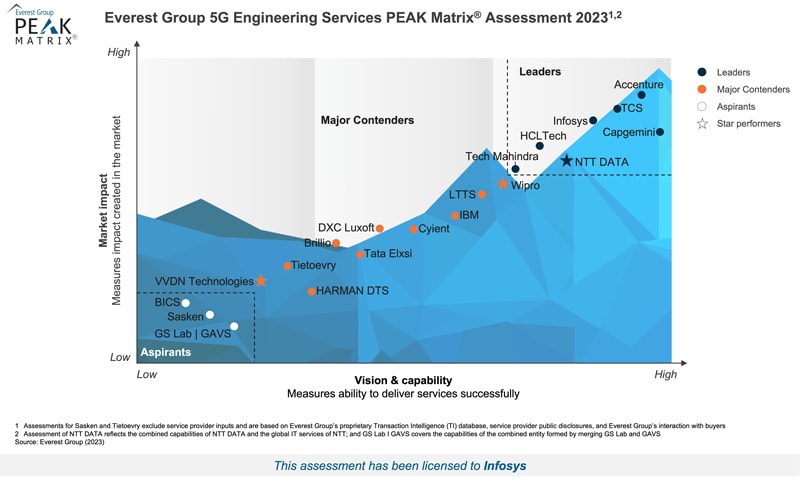 Everest Group has included the following strengths, exhibited by Infosys in the 5G Engineering Services domain:
Infosys has a balanced portfolio of services across the entire 5G engineering services value chain, and the equipment, network, and solution engineering services
It has had a strong revenue growth that could be attributed to a significant increase in its new client engagements
Infosys has a good delivery mix that enables it to serve customers from both onshore as well as low-cost locations
It has a core competency in networks and systems supported by a good mix of IP solutions and partnerships in the domain
Infosys showcases a good mix of pricing models in both traditional as well as emerging models such as outcome-based, revenue sharing, and others
Customers recognize Infosys for understanding project requirements and its flexibility to adapt as per customer needs
Nishant Udupa, Practice Director at Everest Group said – "Infosys has been able to enhance its 5G network engineering competency by creating IPs and forging relevant partnerships in this domain. It has also invested in setting up labs, collaborating with startups, and upskilling inhouse talent, which has enabled Infosys to deliver services across the value chain. These capabilities are further complemented by their good offshore and onshore presence. Clients have appreciated Infosys for engaging via innovative pricing constructs, clarity on engagements, and ability to adapt to customers' requirements. This has helped Infosys retain its position as a Leader in Everest Group's 5G Engineering Services PEAK Matrix® Assessment 2023."
Infosys aims to carry on this momentum in innovating, developing, and delivering cutting-edge 5G Services for its clients. It envisions being the most trusted partner in assisting its clients in navigating through their digital transformation journeys by delivering continuously upgraded value to their businesses.
Please register to download the report