Infosys IoT ranked #4 globally in the first ever
'HFS Top 10 Internet of Things Service Providers 2019' assessment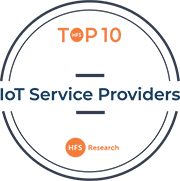 As per the report, Infosys exhibited a strong mix of services execution excellence, applied innovations and vision, and verified customer satisfaction. Infosys has been rated as a leader due to its demonstrated strengths in domain expertise, differentiated engagement models and investment in innovative and disruptive usages of emerging technologies.
About the report
HFS Top 10 Internet of Things (IoT) Service Providers 2019 report examines the role of service providers play in the evolving IoT landscape. HFS assessed and rated the IoT service capabilities of 23 service providers across a defined series of innovation, execution and voice of customer criteria. The report specially focusses on IoT specific capabilities across industries in four areas – strategic consulting, productization, deployment and operations, as defined by HFS' IoT value chain.