Infosys Engineering Cloud
Engineering is a protected environment for many product enterprises. Engineering users – dominated by R&D across the world are concerned about data security, Intellectual Property theft etc., In a highly competitive environment with global scenario, product enterprises can't afford to lose the vital product data. Performance is the next key concern for the engineering applications. In a discrete product development scenario, the CAX-applications used by R&D engineers across world are highly performance hungry applications – which required high computing power along with excellent network bandwidth and storage.
The above said reasons delayed the Cloud Adoption by many product enterprises in the past. However, things are changing rapidly now. With the digital adoption, product enterprises started realising the need for 'extended enterprise' with an extended ecosystem – the concepts of 'design anywhere', 'produce anywhere', 'assemble anywhere', 'sell anywhere' and finally 'service anywhere'. These rapidly changed the thought process. With additional cyber security features brought into the world of cloud computing, abundant bandwidth provided by the internet service providers, higher computing power available with the Hyperscalers – have really changed the way of working today.
At Infosys, we strongly believe that the poly cloud ecosystem will rapidly change the dynamics of the Engineering teams of product enterprises in the future. We strongly feel that Cloud seamlessly connects the 'digital thread' across the product enterprise.
Infosys Engineering Cloud drives tangible business value
At Infosys, we help the customers to adopt to Engineering Cloud in a strategic way. Whether it is cloud native Engineering applications or engineering products, we help the customers to migrate and run their Engineering workload on cloud.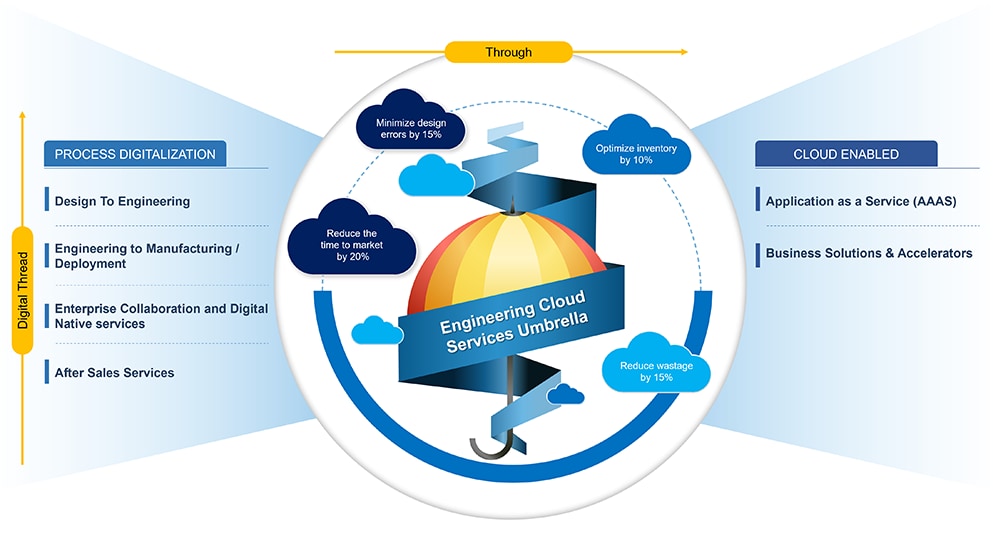 Our comprehensive suite of Engineering Cloud offerings
Design Engineering Cloud
Manufacturing Cloud
Collaboration Cloud
Connected Products Cloud
Network/Telecom Cloud
After Sales Cloud
Smart Infrastructure Cloud
Media Cloud