HFS Top 10 ServiceNow Services: Infosys in Winner's Podium
Infosys has been positioned in the Winner's Podium in the 2019 HFS Top 10 ServiceNow Services report for our ability to drive innovation, being an asset-rich provider with extensive Enterprise Service Management (ESM) and vertical-focused capabilities.
The 2019 HFS Top 10 ServiceNow Services report examines how service providers are evolving their offerings and capabilities in the highly competitive ServiceNow Services market. The report investigates how providers are differentiating themselves in terms of execution and innovation capabilities in key dimensions, including reach, breadth, and scale, investment roadmap, and the all-important Voice of the Customer measurement.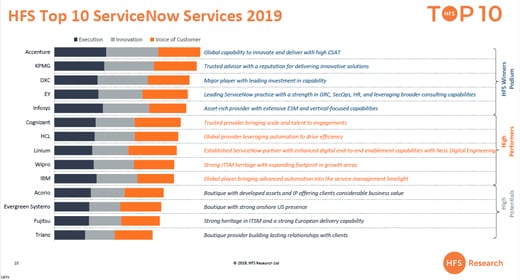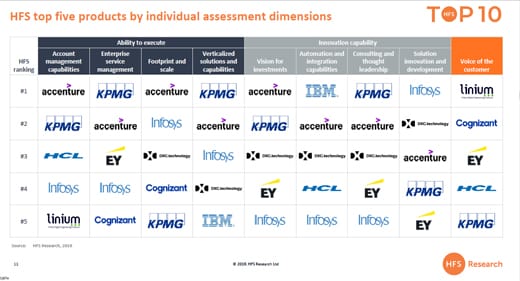 Key Highlights
#1 in Solution Innovation and Development
#2 in Footprint and Scale
Strong recognition of our verticalized solutions focused on ServiceNow
Infosys Strengths
Enterprise Service Management (ESM) assets: Infosys continues to invest in building out assets and IP to extend the value of the platform in its traditional stomping grounds, particularly ITSM, but it is also leveraging its strong development, analytics, and engineering heritage to build out advanced capabilities to drive ESM—HR, CSM, GRC, and industry solutions across client organizations.
Platform verticalization: Infosys has been able to bring considerable proof of delivery for its capabilities to design, develop, and deploy highly verticalized solutions. Client references have spoken highly of Infosys' ability to understand specific industry challenges and build solutions to tackle them.
Delivery model: Infosys has a structured delivery model based on specific geographies, supported by significant investment in a localization program.
Talent: Alongside extensive internal training activities, Infosys' delivery model cross-skills talent from key areas to supplement its practice, such as bringing HR talent from across the organization to support a client project.