Infosys has been positioned as a Leader in IDC MarketScape for Asia Pacific Oracle Implementation Services 2021.
Infosys has been recognized as a leader in the debut edition of IDC MarketScape for Asia Pacific Oracle Implementation Services 2021. We believe this positioning is a true testament to our vision of transforming clients to resilient live enterprises enabling them to deliver holistic experience and building responsive value chains across their ecosystem, with democratized innovation and intuitive decisions that drive business agility and sustainability.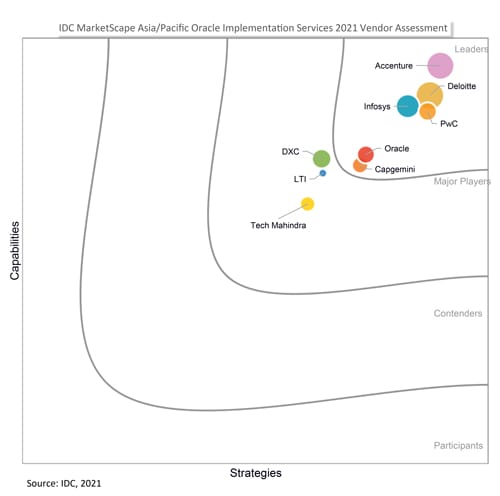 IDC MarketScape vendor analysis model is designed to provide an overview of the competitive fitness of ICT suppliers in a given market. The research methodology utilizes a rigorous scoring methodology based on both qualitative and quantitative criteria that results in a single graphical illustration of each vendor's position within a given market. The Capabilities score measures vendor product, go-to-market and business execution in the short-term. The Strategy score measures alignment of vendor strategies with customer requirements in a 3-5-year timeframe. Vendor market share is represented by the size of the icons.
Key Highlights from the Report
Infosys' differentiation in the implementation services market is underpinned by its efforts to incrementally move customers to a Live Enterprise with a suite of Oracle products.
To accelerate the cloud-led transformations of enterprise clients, Infosys recently aggregated its cloud services under Infosys Cobalt, which also houses its Oracle Cloud offerings. The sharpened focus has helped Infosys channelize its enterprise-wide cloud migration assets/IPs and industry cloud solutions to support complex Oracle cloud transformation projects.
Infosys' drive to accelerate client outcomes stems from two key approaches. The first is underpinned by transforming client business landscapes with its proprietary prebuilt solutions and accelerators designed to improve time to value from the client's Oracle investments.
The second is by packaging its Oracle engagements with diverse pricing models, such as bundling Oracle services with platforms or license fees or using skin in the game pricing models that ties Infosys' compensation to key client business outcomes.
Customers interviewed by IDC praised Infosys' quality of Oracle resources, project management skills, and ability to scale services to meet work demand in the implementations.