Infosys Positioned as Leader in Avasant's Oracle Cloud ERP Services 2021-2022 RadarView Report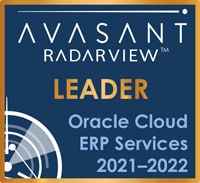 Avasant has positioned Infosys as a Leader in Avasant's Oracle Cloud ERP Services 2021-2022 RadarView™ report. Infosys was awarded a leadership rating for showing consistent excellence across all key dimensions of the RadarView assessment - practice maturity, partnership ecosystem, and investments and innovation, and having a superior impact on the marketplace.
Key Takeaways:
Infosys was awarded five-star ratings for practice maturity, and investments and innovations.
Leaders including Infosys have displayed a superior quality of execution, a reliable depth and breadth across verticals and a strong commitment to lead the industry with thought leadership.
Avasant has recognized Infosys innovation and IPs, including Industry solutions, Infosys Oracle Cloud Suite, Live Enterprise Solutions and Accelerated Cloud Transformation which carve a strong differentiation for Infosys.
A special mention was given to Infosys for a strong partnership with product vendors and initiatives to develop joint solutions and go-to-market activities
Infosys Virtual Living Labs and global innovation centres have been considered as strong pillars driving our delivery excellence.
Infosys' efforts to partner with colleges to upskill its Oracle talent pool is highlighted.
The report deep dives into the adoption of Oracle Cloud ERP by enterprises to cater to their dynamic customer demands and evolving business processes. Avasant evaluated 30 providers using a rigorous methodology across all key dimensions of practice, market impact and client value.