Omdia – Private 5G Ushers in a New Era for Vertical Industries
Omdia and Infosys have collaborated to create a whitepaper focused on how Private 5G networks are creating new opportunities for enhancing productivity in various industry verticals. The basis of the paper is that enterprises today see 5G as a key enabler of their digital strategy. 5G and edge have outpaced other technologies such as artificial intelligence (AI) and machine learning (ML), blockchain, and big data platforms, being selected by 32% of enterprises as very important for their digital strategy in the coming 18 months.
The continuous addition of game-changing 5G use cases in numerous industries shows that its transformative potential arises from the type of high bandwidth, low latency and high reliability network characteristics that the next generation technologies like Automatics Guided Vehicles (AGVs) and the Metaverse including augmented reality / virtual reality (AR/VR) require.
From the perspective of enterprises, private cellular connectivity is especially attractive since 5G promises to deliver:
eMBB (enhanced mobile broadband): up to 20Gbps
mMTC (massive machine type communication): up to 1 million devices per square kilometer
cMTC (critical machine type communication): as little as 1ms of latency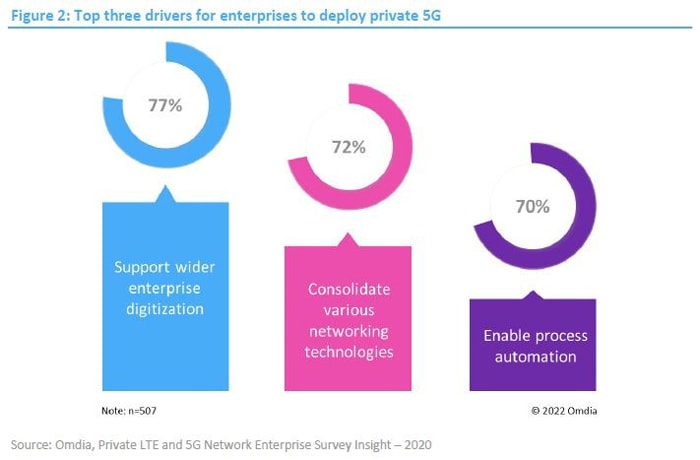 The utility of such a network is practically vertical agnostic. While some industries are set to gain more from Private 5G in the short term, it is set to revolutionize almost every industry going forward. As more and more organizations accelerate their digital transformation journeys, having access to a technology like 5G would result in the creation of numerous, unprecedented applications. Plus, more importantly, the 5G ecosystem is already well underway in developing new devices, use cases, and solutions.
The paper discusses in detail the adoption of Private 5G, the opportunities and benefits it promises, use-case mapping in industry verticals, the challenges with the technology currently and the role the 5G service provider can play to mitigate them.
The paper also showcases Infosys' Private 5G project with one of the globally leading automobile manufacturers based in Germany. The manufacturer's requirements, Infosys' approach, value proposition and the salient features of the solution are covered in detail in the included case study.
Please read the paper to learn more about how Private 5G is set to transform operations in various industries and how Infosys, a recognized leader in 5G Engineering Services, is helping its clients achieve more.
register to download
Related Reading:
Report: Infosys is a Leader in Everest Group's 5G Engineering Services PEAK Matrix® Assessment 2021
Business Solutions: Infosys Private Network for Enterprises
Business Solutions: SDN and 5G – The Next Wave of Network Innovation