Infosys inducted into the 'Winner's Circle' in the 2017 HfS blueprint rating for application testing services supporting digital transformation
In 'Winner's Circle', HfS Research places service providers that show competitive differentiation in delivery with progress in realizing the As-a-Service economy. The report recognizes Infosys as a global system integrator with a strong execution track record while pushing the innovation envelope in automation. It highlights Infosys solutions leveraging data and cognitive capabilities, imbibing an intelligent automation approach, and integrating process and business consulting.
Infosys strengths mentioned in the report include:
Execution excellence: Clients appreciate the robustness and consistency of Infosys delivery
Automation and AI as strategic corporate pillars: Investments in automation and artificial intelligence (AI) help accelerate customer journey to digital transformation. Also, machine learning (ML) is embedded throughout the testing practice.
AI-led framework that leverages data-centric mindset: Infosys is leveraging cognitive computing technologies like AI and ML with advanced algorithms and computing power to generate insights from huge quantities of testing-related data. Its AI-led quality assurance (QA) platform is looking at defects during coding and is being leveraged for log analytics.
Enterprise automation consulting as part of the transformation and process consulting offering: The robustness of execution is underpinned by the comprehensive transformation and process consulting capabilities, including Design Thinking. This is further enhanced by Infosys Test Automation center of excellence (CoE) with the strength of over 8,500 people. It focuses on alliances and tools, frameworks, reusable assets development and industrialization, and competency development. A CoE has been dedicated specially to Agile, which offers support for the customer journey towards Agile and DevOps.
Open and transparent business culture: Clients welcome the grounded approach of Infosys to testing as they feel the provider is not overstretching and will deliver what was promised. Infosys is also seen as responsive.
HfS Blueprint 2017: Application testing services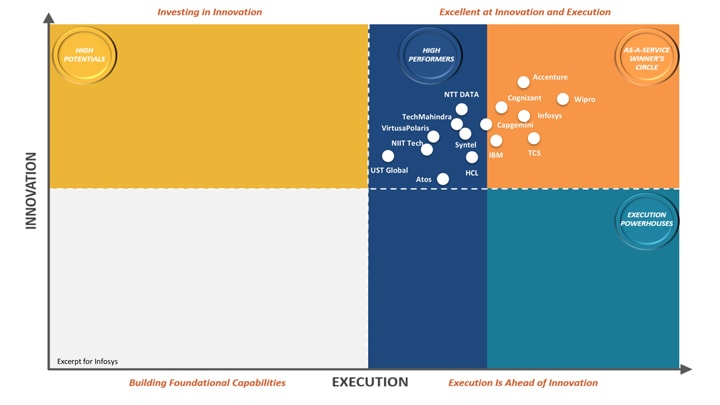 HfS 'As-a-Service Winner's Circle' service providers show excellence recognized by clients in execution and innovation. From the execution perspective, these providers have collaborative relationships with clients and deliver services with a combination of talent and technology. Innovation exemplifies the providers' vision and a 'new way of thinking'. The providers have also made recognizable investments in future capabilities, strong client feedback, and are driving new insights and models.
Stand a chance to win a free assessment of your existing testing landscape.
To participate, please click here to provide your details.