Infosys Recognized as a Leader in NelsonHall's Quality Engineering NEAT 2023
Quality engineering is leveraging AI and automation to create exponential and impactful value for businesses. The market is witnessing constant disruption by next-gen AI technology, with enterprises investing in quality-first AI driven test strategies. Enterprises can achieve quality at pace with minimal risk by scaling traditional test mechanisms with the power of modern technology.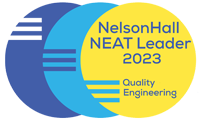 In this year's NelsonHall Vendor Evaluation and Assessment Tool (NEAT) report titled Quality Engineering 2023: Hyper Automation in Sight, 24 vendors were evaluated on their ability to drive automation across test lifecycles and define QE strategies to cope with AI-fueled disruption. NelsonHall has positioned Infosys highly among the leading global quality engineering service providers. This recognition as a QE leader from a top global analyst for the 10th successive year underscores our commitment to accelerating software delivery by addressing enterprise-wide testing needs.
"Infosys has consistently emerged as a leader over the past ten years in NelsonHall's Quality Engineering NEAT. The company invests systematically ahead of client demand in new test automation technologies for activities such as continuous testing, enterprise application testing, and testing application migration to the cloud', said Dominique Raviart, IT Services Practice Manager, NelsonHall. He further added, "Infosys also uses emerging tools such as AI-based test automation to accelerate the generation and maintenance of test scripts. NelsonHall believes that AI will disrupt the QE industry and welcomes Infosys' investments there."
This recognition is a testament to Infosys' ability to innovate at pace and scale seamlessly across niche technologies. We are honored to be recognized for our accomplishments as a global leader across the industry analyst community.