Infosys, an AWS Retail Competency Partner, Rethinks Retail on the cloud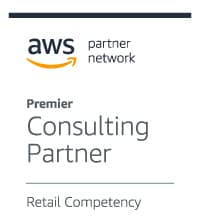 Infosys partners with retailers in their digital transformation journey to drive operational excellence and deliver a superior shopping experience. Our team leverages cloud computing to ensure maximum scalability and availability for retailers. Our cloud solutions allow retail enterprises to scale up retail operations and manage spikes in shopping, both online as well as at brick-and-mortar stores.
Infosys is an AWS Retail Competency Partner and a Premier Consulting Partner of the Amazon Web Services Partner Network (APN). Our AWS partner status reflects our technical proficiency and proven customer success in AWS retail solutions.
Our AWS offerings enable retailers to establish a robust foundation for driving modernization across the retail value chain. Our suite of AWS solutions focuses on purposeful journeys across customer experience, master data, planning, merchandising, e-commerce, supply chain, and logistics.
Infosys Retail deploys, extends, and enhances the cloud capabilities of retailers by migrating workloads, building cloud-native solutions, and providing PaaS/SaaS offerings on AWS.
To know more about how you can benefit from the Infosys AWS partnership, refer to the "Why Infosys-AWS for Consumer, Retail & Logistics" e-book. Click here to learn more about our AWS offerings.
Related Reading: Why Infosys – AWS for Consumer, Retail and Logistics
AWS Success Stories:
AWS Solutions:
Related Blogs