Infosys named a Leader in IDC MarketScape 2018 for Worldwide Oracle Implementation Services
Infosys has been positioned as a Leader in the IDC MarketScape report "Worldwide Oracle Implementation Services 2018 Vendor Assessment". This is a testimony to our vision of being the most trusted Digital Navigator, transforming our clients to lead market disruption with agile Digital business models.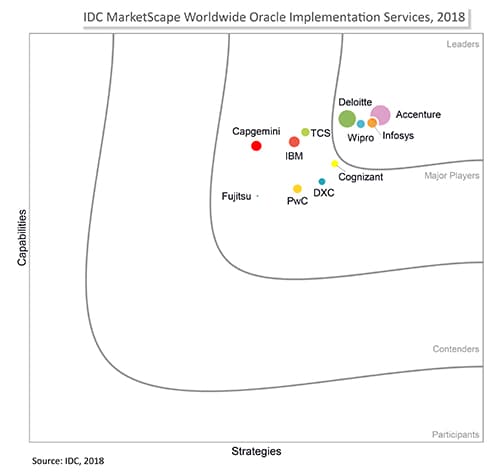 SOURCE: IDC MarketScape: Worldwide Oracle Implementation Services Ecosystem 2018 Vendor Assessment, by Gard Little and Ali Zaid, Oct 2018, IDC Doc#US44364618
The IDC research is a quantitative and qualitative assessment of the characteristics that explain a vendor's success in the marketplace and help anticipate its ascendancy. This IDC MarketScape covers a variety of vendors participating in the worldwide Oracle implementation services ecosystem market. This evaluation is based on a comprehensive framework and set of parameters expected to be most conducive to success in providing Oracle implementation services in both the short term and the long term.
Key Highlights
IDC rates Infosys highly in customer service strategy and its financial/funding model strategy for Oracle implementations
Buyers rate Infosys highly for its ability to integrate its project team with their internal team and its technical competence and insights
Infosys couples its Oracle offerings with homegrown artificial intelligence platform Nia to bring machine learning, knowledge management, and intelligent automation capabilities for the customers. This ability will help enterprises drive Oracle product–enabled business transformation supported by intelligent platforms and global skill sets
Infosys Differentiation
Infosys Continues to innovate ahead of the curve on implementing Oracle products
Infosys thinks 'ecosystemically' to ensure the right partners, including APIs, are brought to bear to achieve business value for its clients
Infosys engages with clients earlier in the services life cycle to envision better user and customer experiences
Infosys uses pricing mechanisms to compete for more outcome-based deals